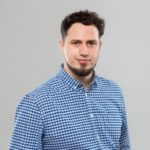 Design-led Thinking for Data-led Problems
Anyone can read blog posts and listen to podcasts and then call themselves a digital marketer. I know because that's exactly what I was doing 9 years ago. Guzzling content and implementing the findings – and learning the hard way that a tactics-first approach gets messy. Fast. I started out as a graphic designer and, although I don't design anymore, design-led thinking has been an invaluable asset. In this talk I'll run through 7 challenges I've faced along my career and how applying design-led thinking had dramatic results.
From the organiser: A massive thank you to Louis, who's filling in at the last minute to replace Stacey, who sadly had to cancel due to medical reasons. This sounds like it'll be a really interesting talk.