About Cardiff SEO Meet
Cardiff SEO Meet is a meetup of SEOs and digital marketers in Cardiff, South Wales, UK. We meet every 2-ish months to chat and learn about SEO (Search Engine Optimisation) over food and drink.
What to expect at each event
Each event typically has:
Two talks/presentations* plus Q&A
A live 'site review' section, where we audit a site live on the night
Free food and (sometimes) free drink
Best of all? It's free entry! This is made possible by our wonderful sponsors, who help to cover the costs associated with running the events.
* The talks are almost always directly about SEO, however some talks have been on a topic that's closely related to SEO. For example, while we've had talks about on-site SEO, link building and Google Maps optimisation, there's also been talks on conversion rate optimisation, PPC (Pay Per Click) advertising and marketing attribution. So not every talk is 100% SEO-themed, but they'll all be important and relevant to SEOs and digital marketers.
Feel free to check out our archive of past events to see information on past talks, speakers, etc. – with links to slide decks, videos and other resources.
Who's it for?
Cardiff SEO Meet is not just for SEO professionals. While we do get a variety of SEOs along (whether in-house, agency-side or freelance), we also get:
Digital marketers who specialise in other areas of digital marketing, who want to learn a bit more about SEO,
Business owners who want to learn how to do SEO themselves,
Students and graduates who want to learn how to get into SEO as a career path.
Who runs Cardiff SEO Meet?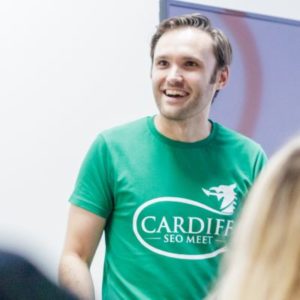 That'd be me! Hi, I'm Steve Morgan, organiser of Cardiff SEO Meet. I'm a freelance SEO consultant by day (Morgan Online Marketing) and occasional SEO blogger (SEOno).
I decided to start running Cardiff SEO Meet as there weren't any dedicated SEO events in the area. Over two and a half years later, there's been 10+ events and over 600 members have joined our Meetup group.
Follow Steve on Twitter: @steviephil
A brief history
I came up with the idea for Cardiff SEO Meet in late 2015, officially announced it in March 2016 and ran the first event in May 2016 – you can see some old posts on the blog, which originally appeared on SEOno (my separate SEO blog) but I've also published them on here.
The first three events took place at Tiny Rebel Cardiff (then known as Urban Tap House), in their upstairs function rooms (known as Upstairs Bar and Cwtch).
In 2017, we switched venues to Tramshed Tech, running three more events that year.
In 2018, we venue-hopped a bit, albeit not intentionally… We moved to the Bierkeller, which sadly closed down after we held our second event there. For the remaining two events in 2018, we were at Tramshed Tech (again) and Milk & Sugar's Old Library café/bar.
Then in 2019 we moved to 10 Feet Tall and stayed there for five events.
Finally, in 2020, we came full circle and returned to Tiny Rebel Cardiff, which (at the time of writing) is our current venue once more!
To learn more about our past events, feel free to check out the events archive on the Events page.
"Great! Look forward to the next one."

Jordan William
"Fantastic! Met a bunch of very lovely people who had a lot to share. Thanks for organising and can't wait for the next session."

Bina Messenger
"A very enjoyable and informative event. Knowledgeable experts in their fields who all did very good presentations. Would highly recommend to anyone who is even slightly interested in the world of SEO or thinks it could be beneficial to their online business. Everyone was very friendly and the venue was just the right size. Great work guys and keep up the good work. 5 stars all round!"

Euan
"It's my first one and I'm eager to attend more. I learned a lot."

Jacqui Pulford
"Enjoyable place to meet like minded people with an interest in SEO."

Dan Amos
"Very useful!"

Mark Hesketh